China Investment Information Services Ltd. (CIIS), signed an agreement with Zhengzhou Esunny Information Technology Co., Ltd., (Esunny) a wholly owned subsidiary of Zhengzhou Commodity Exchange (ZCE), as ZCE's market data sales agent in oversea market (including Hong Kong, Macau and Taiwan). The agreement was signed in Hong Kong on 10 November 2011.
According to the agreement, oversea information vendors can apply for the license of ZCE data through CIIS directly from 1st of December 2011, including real time and delayed market data. CIIS take full responsibilities on the service application, contract management, marketing development, daily customer support and audit issue. The current customers of CIIS are required to sign an addendum to the current standard agreement to apply for ZCE market data. The agreement will be subject to review at the end of 2014.
CIIS now has been the market data overseas sales agent for four financial organizations in mainland China, including Shanghai Stock Exchange, China Securities Index Co., Ltd., Dalian Commodity Exchange and Zhengzhou Commodity Exchange.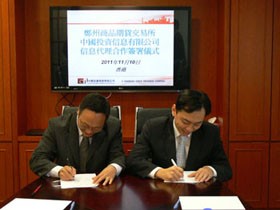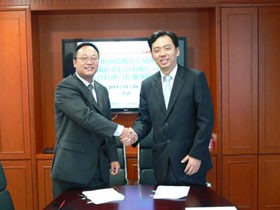 Mr. Bean Zhang (on the left), Managing Director of CIIS and Mr. XiangFei Xing (on the right), General Manager of Zhengzhou Esunny Information Technology Co., Ltd signing the Agreement