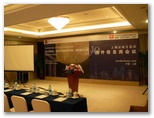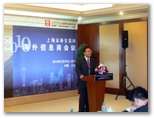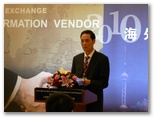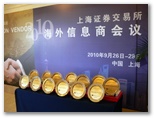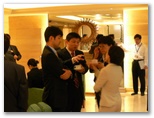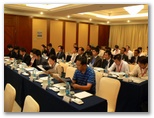 The FIRST Global Information Vendor Conference of Shanghai Stock Exchange took place 26-28 September 2010 in Dongjiao State Guest Hotel, Shanghai P.R.C. has been successfully completed. The Conference is jointly hosted by China Investment Information Services Ltd. and it's parent company, SSE InfoNet Ltd.
With more than 50 executives from overseas vendors of SSE, Shanghai Stock Exchange, SSE InfoNet Ltd., CIIS, China Securities Index Co., Ltd. (CSI) and Dalian Futures Information Technology Co., Ltd. attending the conference. We have brought the latest product and technical planning in the coming year to our overseas information so that Information Vendors can plan ahead and to fully understand the challenges and opportunities of Shanghai Stock Exchange market data.
In addition, we are delighted to present two awards to our clients: long term contract clients and the best real time clients. For the long term contract clients, there are three winners: Bloomberg, Quick Corp, Thomson Reuters. All of them have been our clients for more than ten years. For the best real time clients, ten winners have been awarded based on three criterias: timely and accurate reporting of subscriber reports, co-operation of technical enhancement of our systems and timely payment of license fee and subscriber fee.
For the last day of the conference, participants were organized to visit Shanghai Stock Exchange and the World Expo in Shanghai. It's our target that this conference will be a scheduled grand event in security information industry.
We hope the conference acts as a regular platform between the Mainland exchange and overseas information vendors.